Why did
117

companies sign up for Alsco's services last week?

Alsco gives you the simplest, most convenient, reliable and economic solution to floorcare in your workplace.
Prices start at just $1 per day*
Every customer gets a no-obligation, 14-day FREE trial*
Simple, low, flat monthly cost
No need to purchase expensive mats
Instantly tax-deductible
Free delivery
Why is renting an Alsco Mat better than buying one?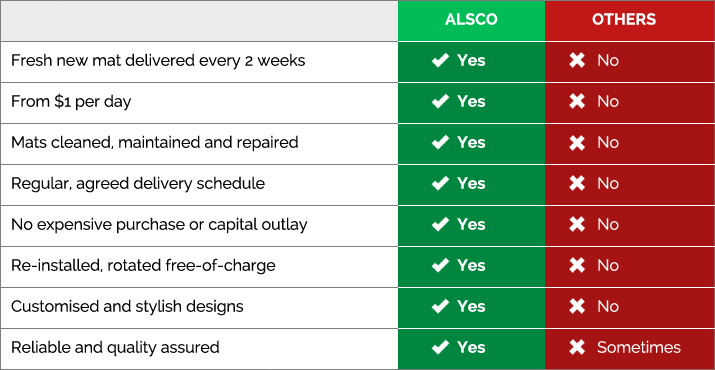 ...and Alsco aren't just about Mats

We've been providing professional textile rental services throughout Australia since 1963. Known for our friendly approach, our services include a commercial linen service, an extensive uniform range, corporate clothing, chef uniforms, washroom and first aid solutions.
Use an Alsco Mat FREE for 2 weeks – it's on us!
No-obligation and no hidden fees. We do not spam. Privacy guaranteed.
Are Alsco mats better than other store bought mats?
Absolutely. See the difference between an Alsco 'Evolution' mat, a 3 month old mat belonging to a restaurant, and a typical mat bought from a hardware store in the video.