Food Processing Garments
Whether your business is food manufacturing, processing, or packaging, the cleanliness
of your staff is your front line against germs, contamination and infection. And unlike a standard food establishment, contamination will be a disastrous consequence.
The foundations of Alsco's rented food garment services ensure all garments are laundered to stringent HACCP regulation standards.
And with our managed rental service, you'll always have fresh, crisp, hygienic food processing garments delivered to your business's doorstep.
Our flexible range of food industry workwear…
Can be branded to improve your company's image
Can be colour coded for staff in separate work areas
Come in a range of styles and sizes, including women-friendly fits
Are made from high quality comfortable fabrics
Is the perfect long-lasting anti-bacterial defence against dirt and germs
---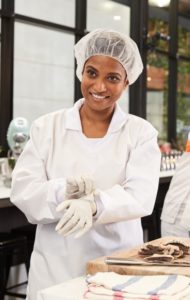 White Food Shirt
Comfortable soft cotton blend with neck gusset, collar and elasticated cuffs, perfect for food processing staff.
White Food Shirt V Neck
Comfortable fit, poly cotton blend with a V-neck (no gusset), collar and soft elasticated cuffs.
Food Shirt With Trim
Add a coloured trim to your food shirt chest and collar for different work areas.
Navy Drawstring Pant
Pair your food shirts with a serviceable navy drawstring pant, internal pocket, elastic waist with drawstring and soft poly cotton blend fabric.
---
Alsco's Smart Managed Garment System
With Alsco's Managed Uniform Rental Service, we don't just wash and return your garments. Using a sophisticated barcode system developed over years, we track every delivery. This includes locations, last pickup dates, number of washes, and much more.
With this Managed Garment System, Alsco's delivery is hyper-fast and accurate. But it also means we can tweak our services to fit your business with ease – and know exactly what uniforms need replacing and when. Because a convenient experience for you is at the top of our minds – always.
Why Buy from Alsco?
Meets food industry hygiene regulations (HACCP)
No capital outlay required
Regular, agreed delivery schedules
Items cleaned, sanitised and repaired
Includes inventory management system
Can't wait? Call us on 1300 659 892 and we can get you started or complete the online form and we'll be in touch soon.
---
How Alsco's Managed Rental Program Works
Alsco's Managed Rental Service is the cost-effective alternative to buying. We eliminate the need for large cash purchases and keeping your equipment maintained and up-to-date. Starting from just $1 a day, you'll benefit from regular delivery schedules, management of replacements, and emergency, on-demand servicing.
PROGRAM STARTS
You'll be assign an agreed amount of garments.
For example:
5 Garments for each day of the week
5 Garments being cleaned each week
11 garments to allow for the one being worn at the time of the service
REGULAR SERVICING
Alsco will collect your soiled garments. At the same time we'll return your freshly laundered and repaired garments as per the agreed scheduled.
This week 5 dirty garments
are sent to be cleaned...
...and clean 5 garments
are delivered.