Did You Know?
Those in the food service sector and the hospitality industry can make a great impact in promoting a greener environment by reducing food waste?
Food in Hospitality: Wasted Opportunities?
From hospitality to food retail to households: Australians are throwing away food at a phenomenal rate – around 315 kg/per person/per year. That's almost 1kg per person every day!
Globally, about 1/3 of the food grown to be eaten is wasted every year. Food waste represents an environmental disaster due to the unnecessary resources used to grow, transport and manufacture food that is not eaten, and due to the greenhouse gas emissions produced when food waste goes to landfill.
Choose Green
Not just those in the food and hospitality sector, but all organisations can reduce their carbon footprint by making wise green decisions. Garages and industrial units can opt for renting the Ecosafe Washer from Alsco, which uses the eco-friendly bioremediation technology to clean grease and gunk from parts.
NO harmful chemical are used and no harmful chemicals or gasses are produced during this process which harm the environment. So choose to Go Green with Alsco Ecosafe Washer!. Call Alsco to get your free Go Green quote.
Australian Food Waste
In Australia, the amount of greenhouse gases produced from household food waste going to landfill annually is 5.25 Mt CO2-e – equivalent to the emissions produced by the steel and iron manufacturing industries. Australia is ranked 15th in the world for greenhouse gas emissions from food waste, yet is ranked 52nd in the world in population size (see figure 1).
As eluded to earlier, Australia's per capita food waste is high. Figure 2 shows a regional comparison.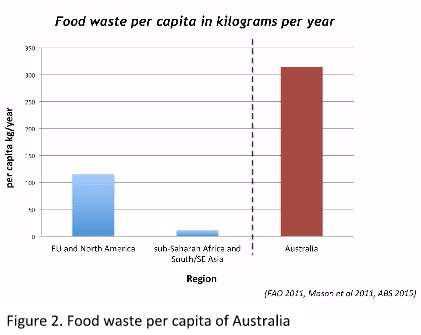 The Food Retail and Food Service Food Waste Problem
The Australian Commercial and Industrial (C&I) sector creates over 1.9 million tonnes of food waste every year, with two sub-sectors contributing two-thirds of that. These are the
food retail businesses. E.g. supermarkets, grocery stores, bakeries, delicatessens, butchers, etc.; and
food and beverage service businesses. E.g. cafes, restaurants, take-away outlets, caterers, accommodation, etc.
The food retail sub-sector creates between 178,000 and 427,200 tonnes of food waste per year, or 23% of the total amount of food waste created by the entire C&I sector. Only 5-9% of it is recovered or recycled.
The food and beverage services sub-sector creates around 858,305 tonnes of food waste every year, or 44% of the total amount created by the C&I sector. Only 8% of it is recycled or recovered.
I Don't See Any Food Waste!
Less than 28% of food businesses have ever done a food waste audit or assessment. Food is a key resource used in the food service business, so this is surprising, especially knowing restaurants throw away 23% of the food purchased for stock in the UK.
Australian figures are unknown but are expected to be similar.
There are a number of challenges to recognising and managing your food waste.
These include:
Food waste occurs incrementally and accumulates gradually. 5% of food waste occurs through spoilage (out of date or damaged food), 65% during food preparation (trimmings, burnt meals), and 30% occurs front of the house as customer plate waste or unsold prepared food.
Most businesses don't know how they are performing in food waste creation than their peers, and if they should do something about it.
Food service businesses have food waste prevention processes in place back of the house, but very few front of the house.
Space is a premium in smaller businesses, and considerations on food waste management require greater attention and creative solutions.
Staff turnover is high, so training on food waste reduction and separation needs to be included in all staff training programs.
Menu planning, stock ordering and management, food preparation, and food service are roles often performed by different individuals in your business, creating a disconnect and lack of clarity in how food waste is being created.
Australian Hospitality Sector Food Waste Research
While there is limited data on Australian hospitality sector food waste, this is changing. RMIT University researchers are doing a nationwide hospitality sector food waste research project called Watch My Waste (www.watchmywaste.com.au), and are asking businesses across Australia to sign up today.
Participation in the research project is easy: you fill in a couple of surveys and do food waste audits. If you participate, you will learn how much food you are throwing away, and are likely to see your food waste decrease during the project. At the end of the research, you receive a report on your food waste, what is contributing to its creation, and recommendations on how to further reduce it.
10 Tips To Reduce Food Waste
The greatest impact in reducing food waste occurs through decreasing how much food becomes surplus or waste (see figure 3). Here are 10 tips to help reduce your business' food waste:
Plan menus and try them with customers to see if they are effective.
Check existing stock in storage and the fridge before ordering, and shop from detailed ordering lists, not memory. There are a number of good inventory management software systems around.
'First in, First out' – Use older food first as fresher food lasts longer.
Do not bulk buy food unless you will use all of it before it spoils.
Purchasing more pre-prepared food pushes some preparation food waste further up the food supply chain where it can be managed in greater volumes.
Store food correctly to optimise its lifespan. Not everything stores better in the fridge (e.g. Cucumber has a freezing point that is higher than the temperature of most refrigerators, so they spoil faster because they freeze).
Use By and Best By/Best Before dates are different. Use By dates are a mark of safety, and food should be consumed before the expiry date. Best By/Best Before dates are the producer's mark of quality and are usually safe to eat after the expiry date. If in doubt, smell it!
40% of the food thrown away is high carbohydrate foods such as potato, bread, pasta and rice. Cook and serve more suitable portions of these foods.
Offer doggie bags. They are NOT against the law in Australia, and using them will reduce the amount of food waste front of the house!
Around 1.9 million Australians go without food because they cannot afford it. Donate your still-consumable food to organisations such as FareShare, Foodbank, OzHarvest and SecondBite, who redistribute it to charities that feed hungry people. If you are in Melbourne you can sell excess still-consumable food at discounted prices on the YUME app.
Alsco would like to thank Watch My Waste for this article. Watch My Waste aims to quantify and reduce food waste in the food service sector through the world's largest food waste research.  You too can participate, visit watchmywaste.com.au for more details or register here.
Would you like more tips on making your workplace and the environment greener, safer and healthier? Subscribe to Greenroom.